Volcafe Way 2019 Review
The Volcafe Way team are daily, and tirelessly, carrying out our strategy of long-term investment in sustainable supply chains.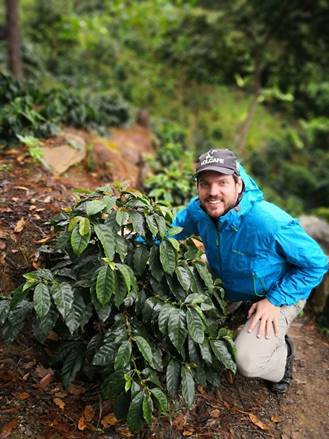 Our flagship programme is five years old and has just published its Annual Report for 2019 – see link below.
Volcafe Way Programme Manager Carlos Ortiz (pictured above)
introduces us to the Report and the wonderful work it showcases.
" The intention is to showcase a bit of what Volcafe Way field teams did this year and introduce them to the wider internal audience to get to know us better. We want to share our story with all Volcafe colleagues so that we can all understand more about this important programme and talk about it to clients with confidence and insight.
"While some of us are cupping, trading, attending clients, analyzing costs, getting the shipments on time, etc; there´s a silent partner helping Volcafe to become the World´s Best Sustainable Coffee Partner. This partner is the Volcafe Way Team who are daily, and tirelessly, carrying our strategy of long-term investment in sustainable supply chains.
The Volcafe Way initiative began in 2015 and just turned five! Throughout these years, Volcafe Way has supported our origins with the Field Team Management, has helped on the team´s capacity building, has developed an app to track the progress and analyze the field data, has supported the origins on the procurement and commercialization of the coffee, has helped destination and roasters on value addition as well as helping coffee families be more sustainable.
As is always the case on a continuous improvement program, there´s a lot of ground to cover, challenges to surpass, innovations to create, scalability to achieve, value to add! All these keeps us awake and active to help position Volcafe as the one of the best businesses for roasters who take sustainability very seriously.
By bearing the Volcafe name, we can all claim to be part of this important programme and its drive to a shared sustainable coffee future. The Volcafe Way also has the intention to get all of us closer together and proud of the work we do. We fail at communicating constantly and we need to be better at it.
How many of us are in the team? How many producers have been enrolled in the Volcafe Way? Where do we have our business model farms? Join me reading the Volcafe Way 2019 Year in Review so you can get the answers to all these questions, and many more.  "
Share this page
Related News